The night I got it home...
Was quite the ride.. Owner said it needed the brakes bled but was otherwise a pretty solid truck. So, I set off with the $700 he was asking, fluid, and a few basic tools to bleed the brakes with the intentions on driving this home. Got there and instantly fell in love with it. Tried to bleed the brakes, but never got any air. Since it was getting dark and it did have some brakes, we decided to just get it home and fix it there. Wasn't till I (tried) to get it up to speed and keep the thing on the road I realized the right front wheel bearing was shot....
Truck sits on Dana 30 front axle (4.27) with 6 bolt hubs modified for modified(center enlarged) 620 disks and adapters for the 620 calipers. Divorced Dana 20 trans case, and factory 620 rear with what I think is a 720 3rd member (4.625). Plans are to someday re-gear front and rear to 4.88 with tru-trac diffs. Have the parts for front, but still undecided on which rear end I'll use.
Been a slow going project so far. Kinda why I'm putting this in discussion, instead of builds. Finding myself forgetting what parts I've used, and from what, on some of my modifications... Thinking its time to document it.
Plans for truck is to be a fully capable 4wd to go rippin down logging roads and 4X4 trails, but still something comfortable to drive on a daily basis. So I've got my work cut out for me...
One of my first modifications was replacing the stock Datsun steering box. This was long before I knew about Ratsun, and before NWD so I didn't have much to go on. After going to a few wrecking yards and seeing what's out there, I decided to keep it inside the frame and used a 05 Jeep Grand Cherokee box, 720 reservoir and pump on custom brackets, and Pontiac fiero tilt column. (Needed to be short!)
What'a huge improvement that was!!! Excellent turning radius, and 2-1/2 turns lock to lock. Steering response is awesome. Like driving a go kart!!! Still has the bump steer, but doesn't take 1/2 a turn of the wheel to make corrections anymore.. Also added in a crossmember with mounting point for the pan hard bar that will go with the 3 link suspension that will replace the leaf springs front and back.
And wouldn't you know it. Stock alternator takes a crap. Didn't want to even try another reman.. Made new lower mount and modified the upper for 105A GM alt out of a...... (You see I already forgot.. Old age sucks. Will update later...)
Some seats were next. (FYI anyone looking to put seats in a standard cab. Look for the thinnest seat backs possible) Settled on some Acura seats with integrated seatbelt locks. One thing I never cared for was the seatbelt latches in the 620's. (Makes it hard to get the damn thing on without the cops seeing me doing it) So, I added additional support to the floor along with the new inside mounting points, and tig welded the old Datsun latches to new brackets that mount on the seats. Also fixed the hole in floorboard for transfer case selector and new boot that will hopefully keep the water out...
Noticed floors were not in as good of condition as I thought. So those got stripped bare, sprayed with zinc primer, and truck Bedliner coating over that.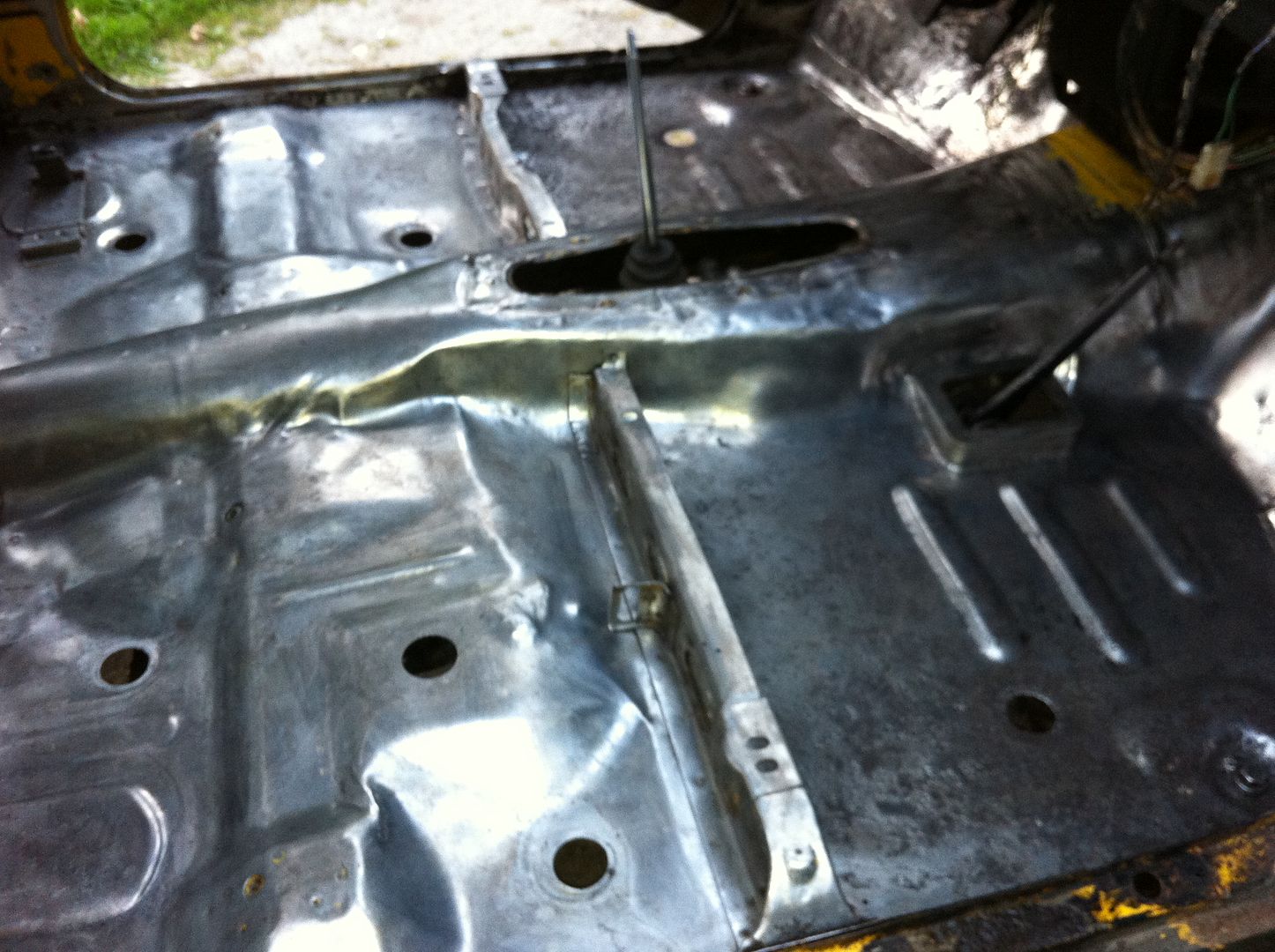 Some new rims and tires. Wanted wide tires, but not too tall. Was originally looking at a set of 29-12.5 interco ssr radials. Turned out they were unavailable everywhere at that time. Ended up getting 32-11.5 Goodyear Wranglers. Really happy with them but the extra height was a problem with the foot wells. So out came the plasma cutter. Ended up taking a 3" slice out of the floor boards and shoving them back for clearance.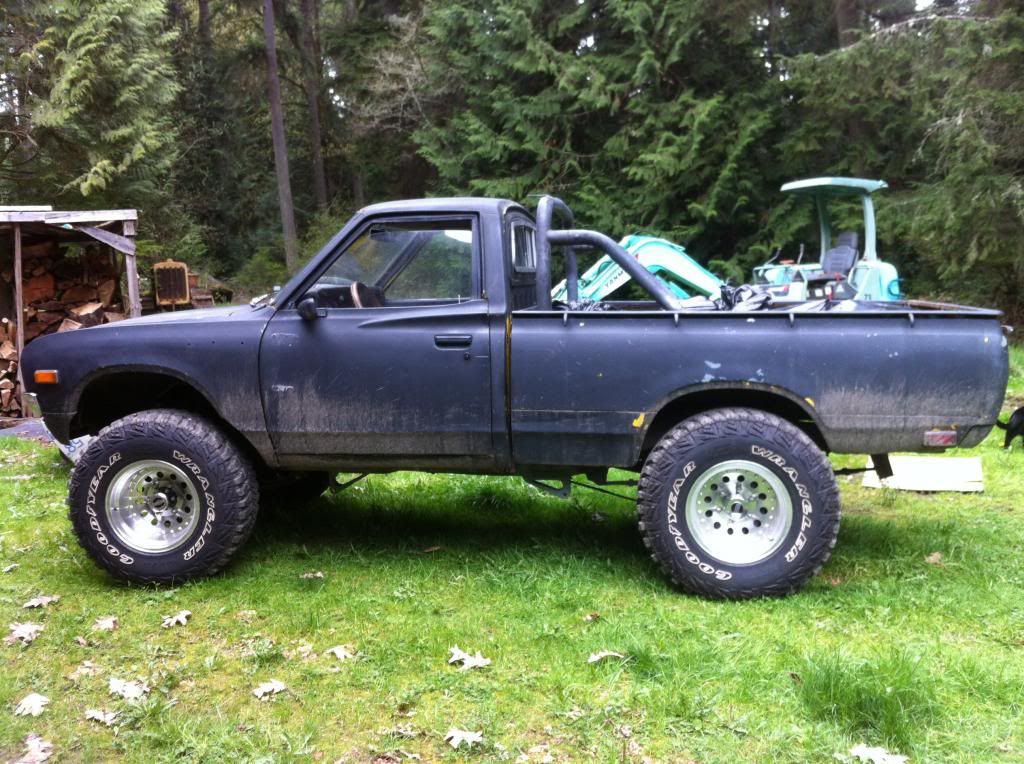 For those wondering why I didn't just lift it. I will be, but only about 3". I'm actually trying to keep it relatively low, and still have 12" of travel with the Fox coil-overs that will go in it someday...
Original engine blew head gasket (pretty much on the way home) and after about a year the wrecking yard engine I got for it started suffering from the same problem (30 yo head gasket...) Time to rebuild the engine my dad had built years ago. L20b w .30 over sss l18 pistons he got somewhere?? (virtually flat tops) decked block, With the W53 peanut head. 11.2;1 CR. 270 isky cam, springs etc... 32/36 and custom made tri-y header. No more getting passed by Toyota Prius's for me.....
And someday....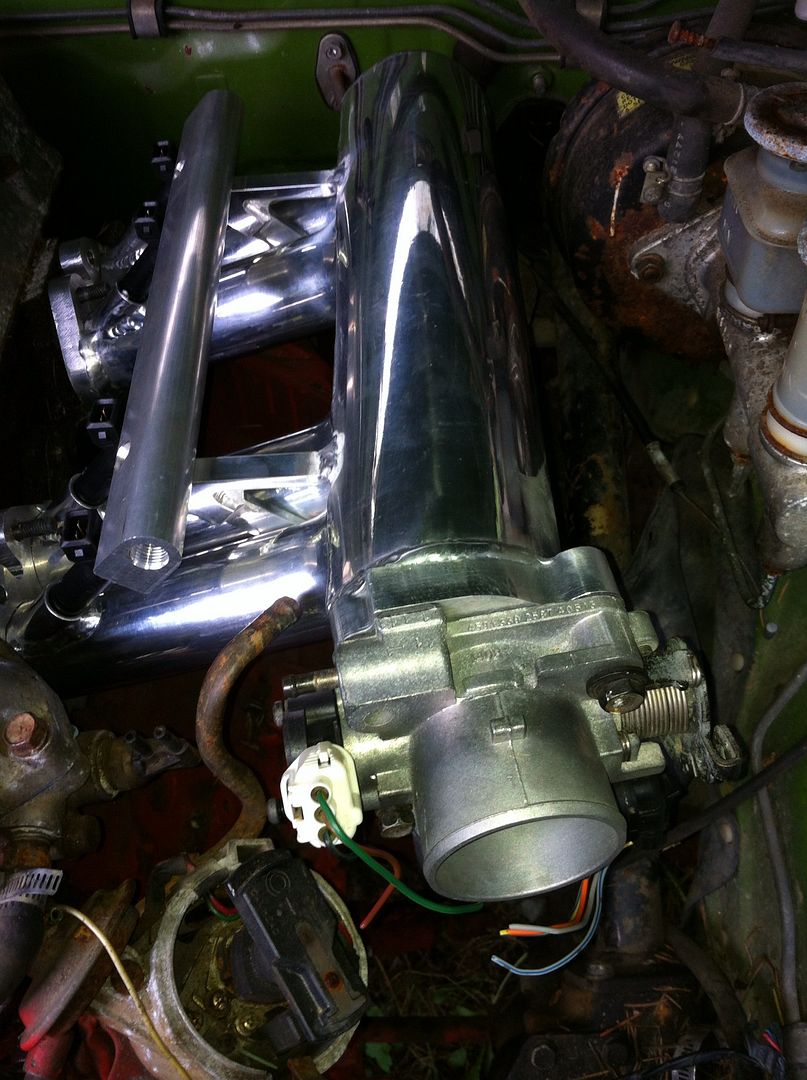 Started building this a few months after getting truck. 60 lb/hr Semens Deka lV injectors. 98-00 Dodge Avenger 2.5 V6 TB. Turbonetics T3 super 60 BB. FMIC and all the plumbing still in boxes....
Will be using Electromotive TEC3 ECU running full sequential thanks to a 94-97 ford ranger 2.3l cam sensor I modified to fit in place of the stock distributer.
60-2 crank sensor wheel getting made, and sensor mount...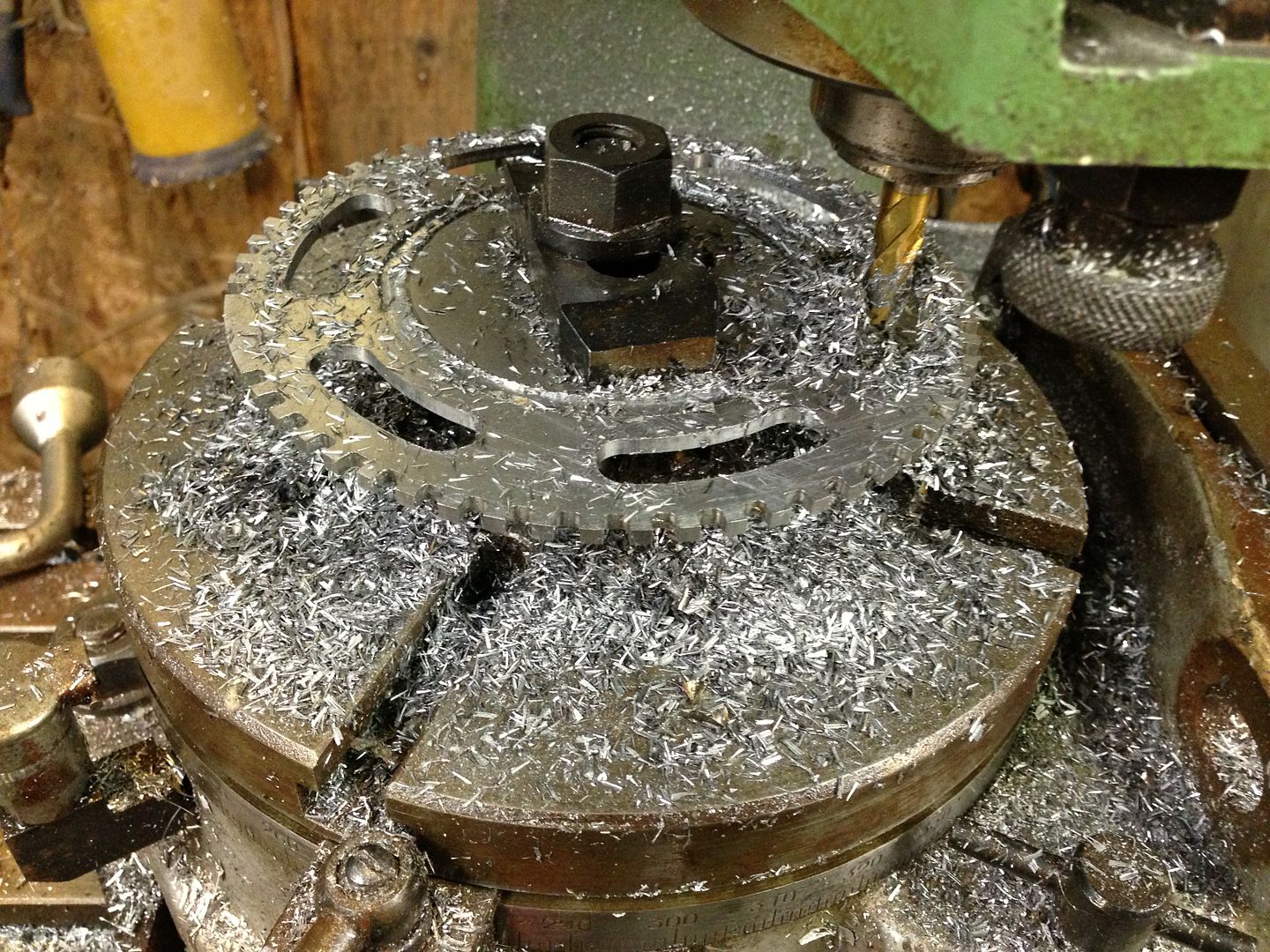 Suspension needs to come first, but right now this is my only running truck (thx to the son-in-law) Have most mounts already welded to frame. Still need to weld in shock towers/mounts front and rear, the upper link for rear axle to frame, and all the fixings for the axles once the spring perches are cut off and I decide on a rear axle....