about 2 years ago now i picked up a basket case 73 PL620. it was cheap but it came with a Webered L20b, Delta cam, centerforce clutch and a 5spd. and for $600 i couldn't complain, although we only paid $500 for Tabby. heres what we got for our $$.....
like i said, basketcase.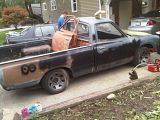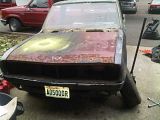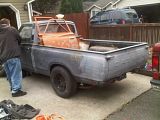 but it was lowered in the back, 3 or 4 inches, i still havent looked, reindexed torsion bars, newer seat with the cut out, 2.25 inch exhaust which looks to be stainless, and 15inch Toyota 4Runner rims. its also 98% rust free, and has shaved hooks, which i am not a fan of but whatever.
the ONE rust spot i have found.
while we were putting it together i figured i would paint the truck. its a shit job but its better than tits on the side of the bed
mirrors anyone??
and my kid rebuilding the Weber.
it lives!!!!!
interior and mirror shot.
this thing has balls. near the end, you'll hear something....
i decided to do something different so heres my kick panels.
but alas, all good things break and i lost a chain guide. i am still piecing it back together. but i cant find my pics of that. might still be on my phone. oh well. ill add more later.