Well I cut the truss tubes today and did not have to make new UTA truss mounts connections, I was a little worried that the angle I bored them was for the long tubes, I took 12.5" off them and when put together they are a slightly different angle but all was good, I put it all together and collimated it, I looked outside and there was almost a foot of snow at my front door so I was not going to take it outside, so I moved a large house plant and pointed out the window at the top of a tree, I cut the tubes a 1/4" longer in case of a mistake in my thinking, I did not want to take off too much, well I could not quite make it to focus racked out but I had an extension(tubes are not long enough??), and It came into focus, it was not a sharp image as I was looking thru a double pane window that is as old as the house, I have never had a sharp image looking thru a window, but it worked and I need to try it with a small eyepiece to see if I have a racked in issue, if I do I will I will have to cut more off the tubes.
I had to stop working on this and fix my pond filter issue, the end of the pipe froze up and it tried to empty the pond, by the time I fixed that it was dark and I could not see the tree top anymore so I called it for the day, I will try all my eyepieces tomorrow and figure out if I need to cut more off the truss tubes.
Here is the scope, it is balanced without any counter weights which is great, but I had to use counter weights when I put in the extension and heavy 2" Meade 32mm SWA eyepiece, that one is kinda heavy.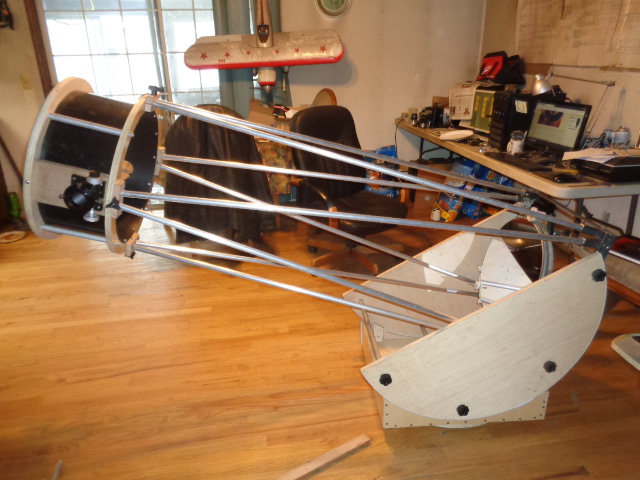 I still need to mount the Telrad which is used to aim the scope, but everything works, it came into focus, all is good.