Again, cut, paste, and edited from another forum. Please excuse any inconsistencies. Project was started right before Thanksgiving 2012.
It's been ridiculously slow and boring around here for the last few weeks. I've been trying to stay busy with projects that don't eat into the savings if at all possible. These two old refrigerators have been sitting in the corner of the paint shop for a few years so I thought I'd finally just dig in.
The one on the left is a 1941 (Nash) Kelvinator that was given to me by my buddy Jerod. It sat on his grandparents back porch in Eastern Oregon for decades. When they died and the family was cleaning out the farm he grabbed it for me, along with another for himself. I love the art-deco details. The one on the right is a 1946(?) Frigidaire that used to live right next to my Cutlass in my grandpas garage. I brought it home after he died a couple years ago.
Started by dragging out the hose and some cleaning products and scrubbing out the insides. I followed that with a good scouring with hot water and a Scotch-brite pad on the outside.
Once I got them into the booth it was time to start the initial sanding just so I could get a handle on how much body work will be needed.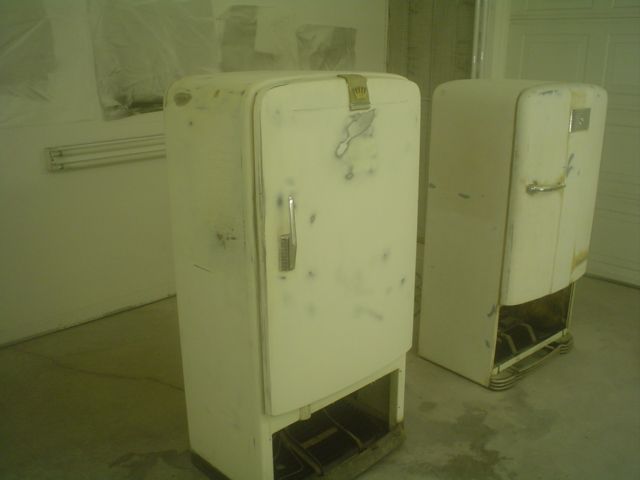 I started to focus on the Frigidaire first by taking the door apart so I could remove the handle and emblem. After that I removed the door, did another round of sanding, and laid on the first round of filler.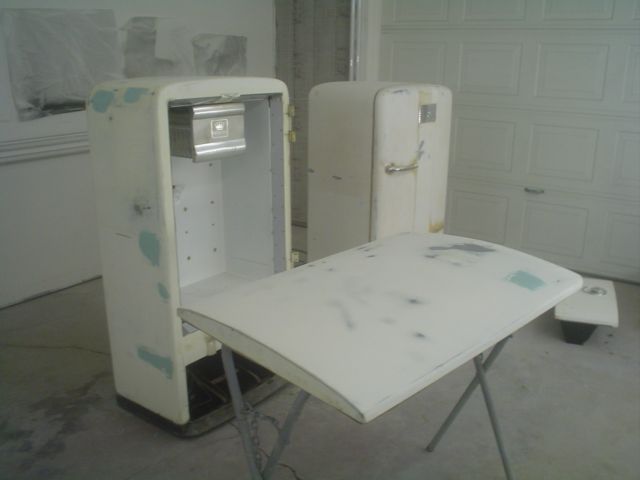 The paint scheme/theme for the Frigidaire is probably going to be black and gold/beige with a nod to Cadillac. The Kelvinator is TBD but I'm open to suggestions. Feel free to chime in. I'll probably take tomorrow off to binge eat then get back to them on Friday. Stay tuned.