So about .... horry shit ... about 16 years ago me and my brother drug a dt250 back up the cliff we lived on, an uncle or someone hung it off the cliff face as an art project or something, so you could see it from i84 several hundred feet below,
Granpa told me if I got it running I could have it, so I spent a week soaking the piston to free the ceezed motor, didnt work, so I got better oil, and soaked it another week.
Being 14 that was about as far as my patience went.... so I shoved a long bolt in the compression release valve hole and hit the shit out of it with the biggest hammer I had... bingo. Little fuel and oil, a quick points adjustment and I had a dirt bike
Granpa was pretty suprized.
Fast forward 6 or eight years, I was moving to Arkansas in my 510, no feasable way to take the yamaha with me... so I tied a new rope to it, and down the cliff it went....
Well I spent a week up at the property cutting downed trees and decided to cart it up the cliff and bring it home.
Today I cleaned it up a bit, and made sure it still ran, it does. Did a quick burnout before I lost spark, points are crap, fixed the points and broke the fuel line in half, fixed the fuel line and snapped the filter in two.... so I said fuck it and just hosed the moss off of it and started measureing what steel I need.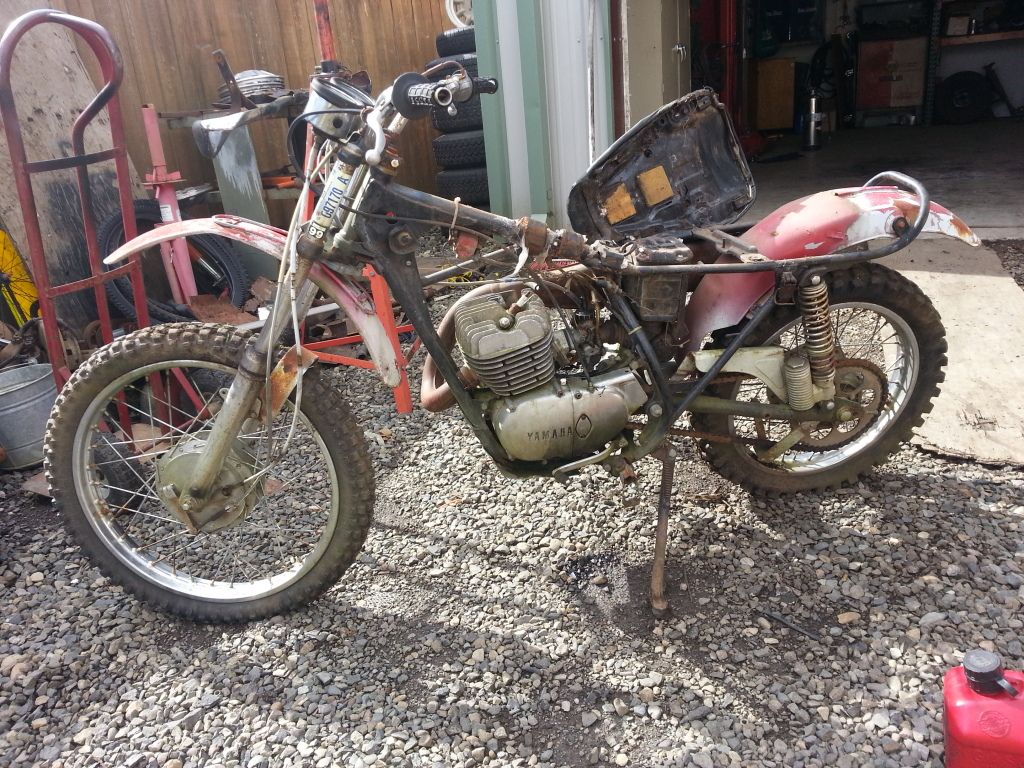 This is probably going to be the easiest bike to hardtail ever.
Plan is to strip the rear off, DONE
Weld the 4 tubes to for the rear, DONE
Extend chain,
Make seat,
Make rear tank latch (currently held down by seat)
Move pegs,
Extend rear brake, DONE
Make/extend shifter,
Move tach, DONE
Remove, front fender, DONE
Fluids,
Points (or cdi, one cylender so easy peasy)
Tires,
Ride.
I may peice together a dt360 motor I found and give her some more street credit.
But it only has to keep up with my moms 250 rebel... wich it more than does already, 2 stroke power is pretty awsome.