So I sold me 84 720 KC 4x4 to Izzo. Needed to get something with a little more room but still small and a 4x4. Bought a 2002 Tacoma Double Cab 4x4. SR5 TRD.. blah blah blah...
Got a good deal on it but it needed some maintenance. Previous owner was not a car guy.. bought it put an intake, exhaust, throttle body spacer, tinted the windows, new aux belts, spark plugs.. etc. He only put about 1000 miles on it.. and he had to sell it for financial reasons.
He couldn't tell me if the timing belt had been done.. and it had 147k on it. Hmm.. Red flag. I wheeled and dealed and he knocked the price way down. Over all very clean for it's age and miles. Just needs the maintenance shit to be done.
First things first, timing belt asap. I drove it for a week very gently as it appears the timing belt was 60k over due. wow! I got the timing belt on thursday along with the rest of the 90k maintenance kit.
Not much dattoing got done this weekend.. first things first. Replace timing belt before something awful happens.
The Saturday todo list:
Timing Belt
Idler Roller
Tensioner Roller
Front Crankshaft Seal x 2
Front Camshaft Seals
Water Pump
Hydraulic Tensioner
Thermostat
Here we go:
Remove fan, remove radiator shroud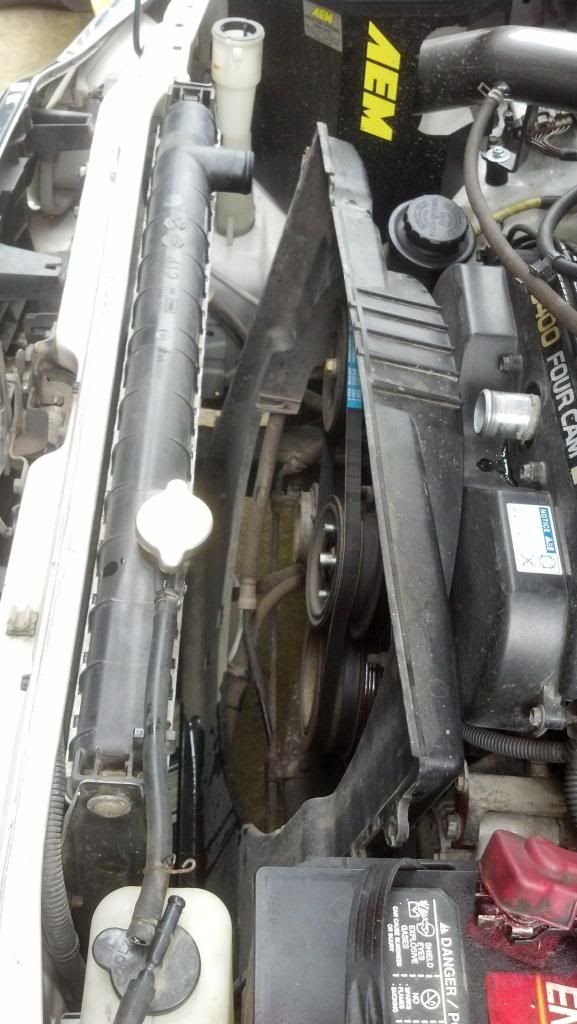 Remove aux belts, remove radiator, remove upper timing cover. Inspect timing belt to see if it was really the original.
I was running on borrowed time.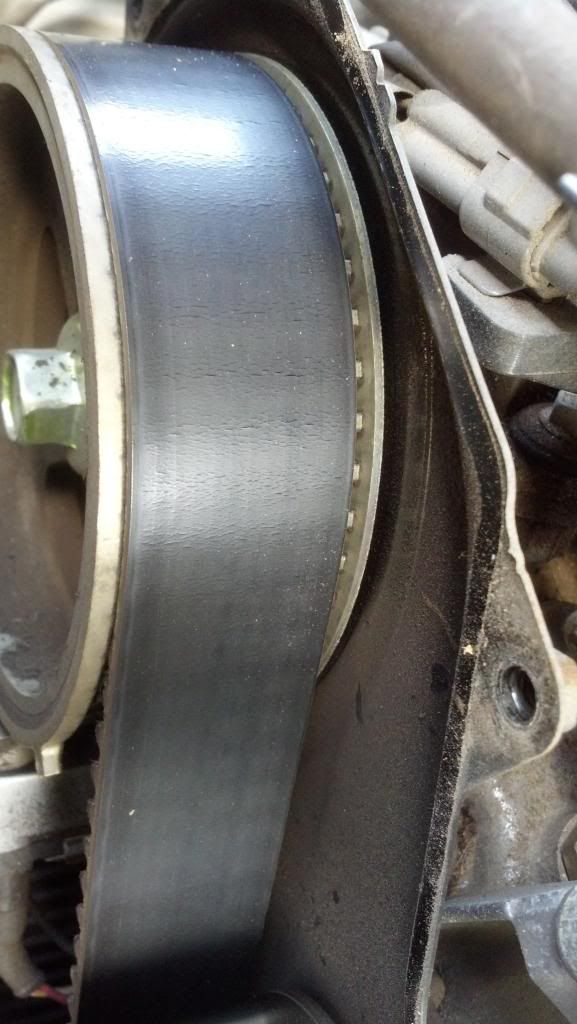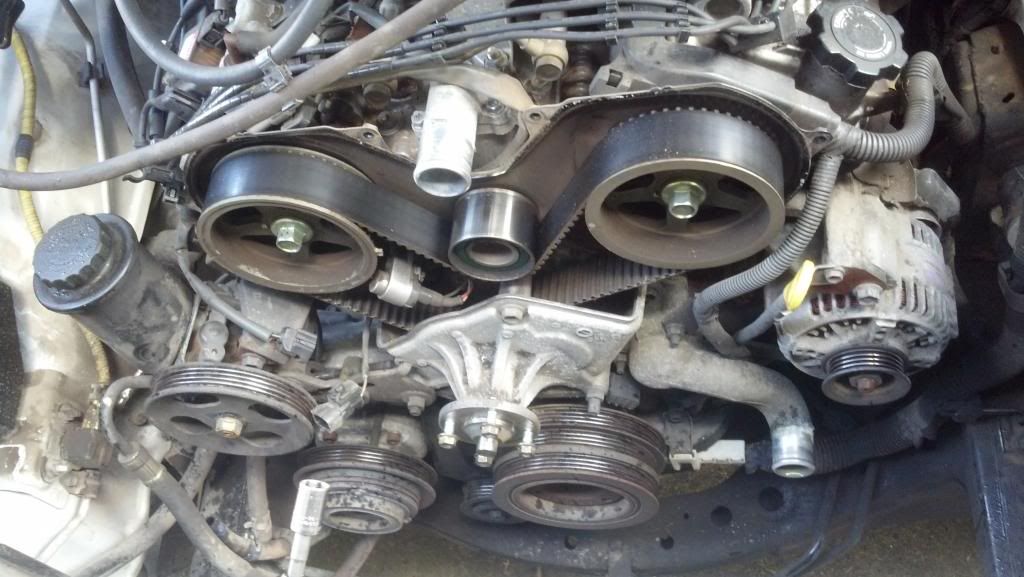 Remove fan/fluid coupler..
Try to use impact to remove crank bolt... no. Try to wrap pulley with belts and use breaker bar... no. Use breaker bar on crank pulley and bump the starter. YES!!!!!
Remove, crank pulley.. slid off easy. Victory!!
Remove PS pump, remove AC compressor, Compressor bracket, remove tensioner, remove timing belt. Remove idler pulley #1 and 2. Remove cam pulleys, remove crankshaft timing pulley. Install new seals. Install cam gears, new idlers, new tensioner, new water pump, thermostat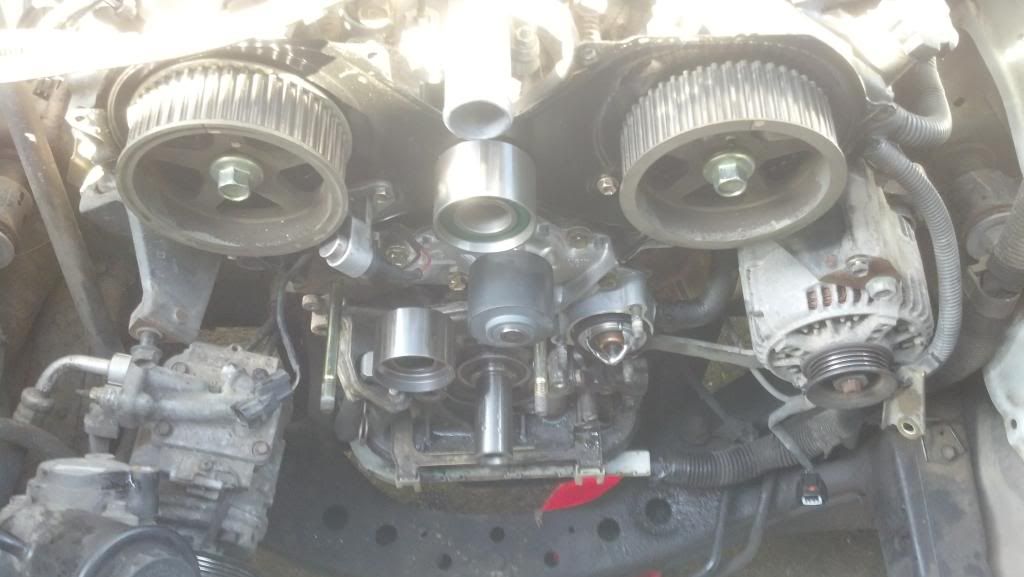 New timing belt on.. rotate engine 720 degrees. Everything good. (Timing marks off because engine was rotated...
)
Put everything back together in reverse order... Now how the fuck does one torque a crank bolt to 218 lb ft on an automatic?
Brake out welder, weld shit together. Drill... My shitty torque only goes to 150 lb ft. Fuck you. Start going door to door asking for better torque wrench. Success. Neighbor to the rescue!!
Home made holder tool: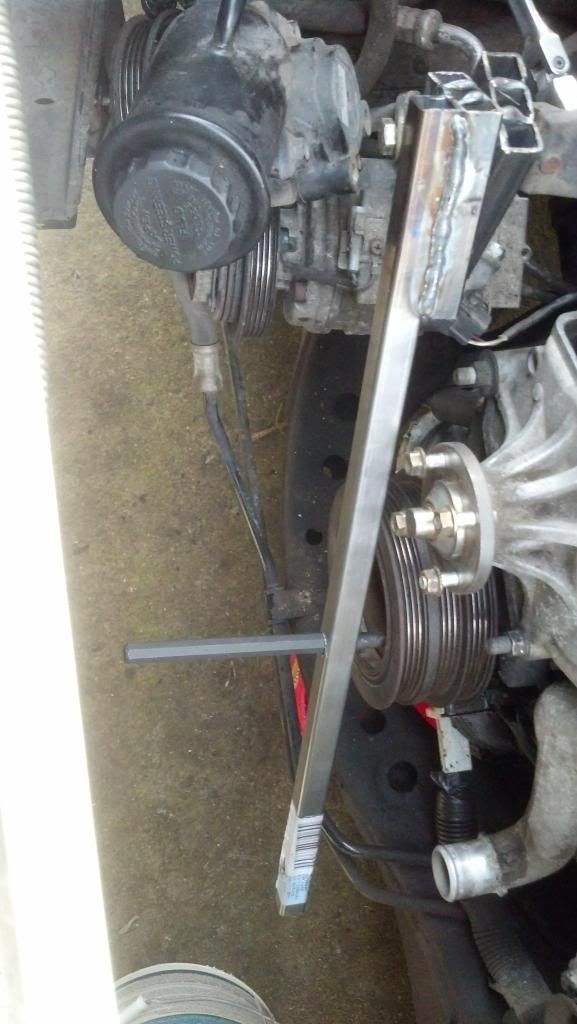 Torque, try not to shit pants, try not to bust knuckles or face.
Test drive.
/End of saturday.