I really do not want to put that transmission back out right now.
I used a wire wheel in my drill and cleaned that whole area off again, I noticed it was not level where all the parts come together so I used my angle head grinder with a sanding disc and made it all level/smooth, I took the leaking bolt out and put some non-hardening gasket sealer on it and put it back in, after using the sanding disc on it it did not really get wet from gear oil, I used some Brakleen on it and blew it clean with air, then I cut another piece of cork gasket and covered one side with Permatex #1 fast drying/hard setting form-a-gasket, I then did the leaky area on the transmission, the area is warm because I have 2 flood lights pointed at it, I waited like the directions said and then put the cork gasket in place and then used cardboard on the top of the 2X6 and used the floor jack to press it into a pancake and let it sit for a few hours, I then dropped the 2X6 and pulled off the cardboard, it appears to have worked, I was going to let it dry till just before bedtime and then spray it with flex-seal and go to bed.
So far I have not had one drip on the floor today even after cleaning it with the wire wheel and leveling it with the sanding disc, so even though it failed the last try it appears that every time I do something it gets a little better, before it only took a few hours to have a 4" round circle/mark on the ground, I could not park in any ones driveway while it was doing that.
I do not think the bolt sealed up very good, it looks wet, but not wet enough to drip on the ground yet.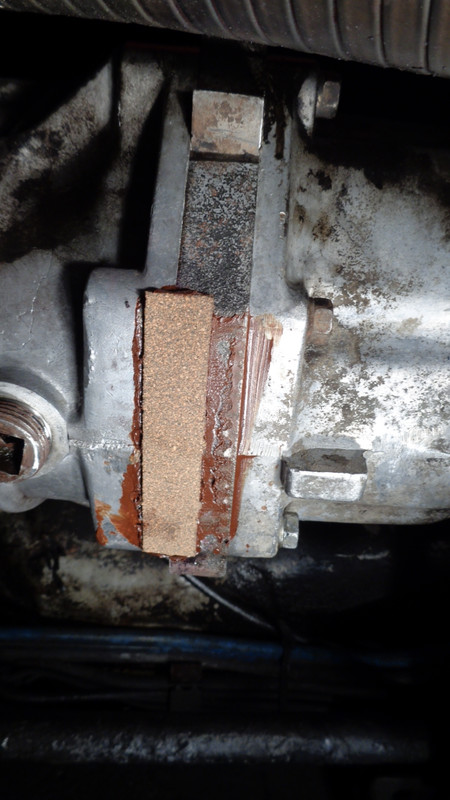 It's supposed to be wet all week and I do not have any work lined up right now, I did what I had scheduled yesterday, so I am not in a big hurry to get this done quick.
I still need to remove the fill plug and see how much gear oil I have lost and then fill it as needed, at least the transmission is clean right now.